Lasers as positioning aids
Despite increasing automation, a very large proportion of personnel costs in intralogistics is associated with driving industrial trucks. As such, great efforts are being made to improve the performance of stock placement and retrieval processes. It is not unusual for a forklift driver to need several minutes to place a pallet at a height of 10 meters, for example. The positioning laser systems support the approach to storage bins, positioning at height and precise positioning of goods.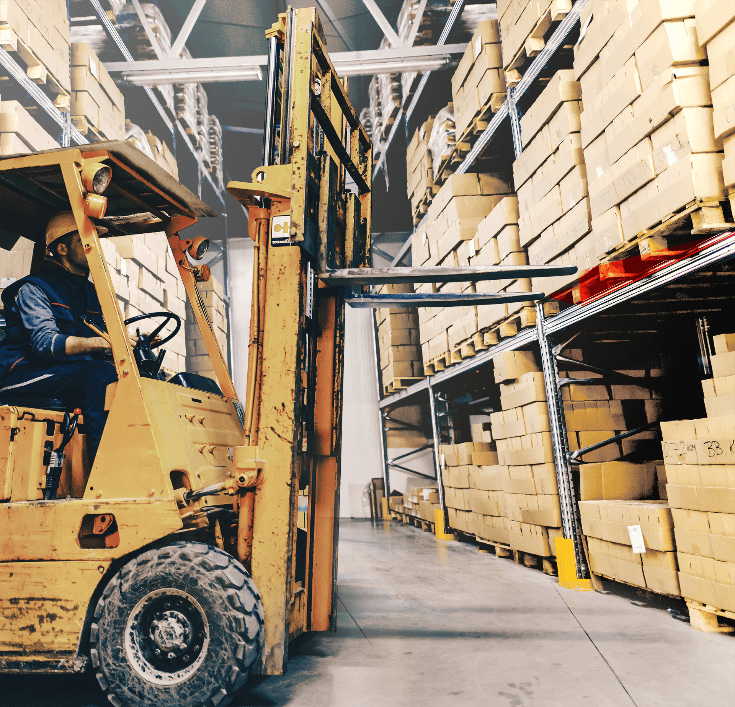 Optical aid for stacking
Particularly when performing tasks such as placing europallets in the upper levels of tray warehouses, for example, the driver has to rely on a camera. This is where the lasers help to maintain the correct depth, height and precise distances to ensure clean stacking. Even when registering pallets that are positioned one in front of another, the laser "remembers" where it has to stop in order to avoid touching the next pallet. Another strength of laser-controlled industrial trucks resides in loading goods. Using lasers makes stacking child's play.
Technical solution
1. The line laser drives with you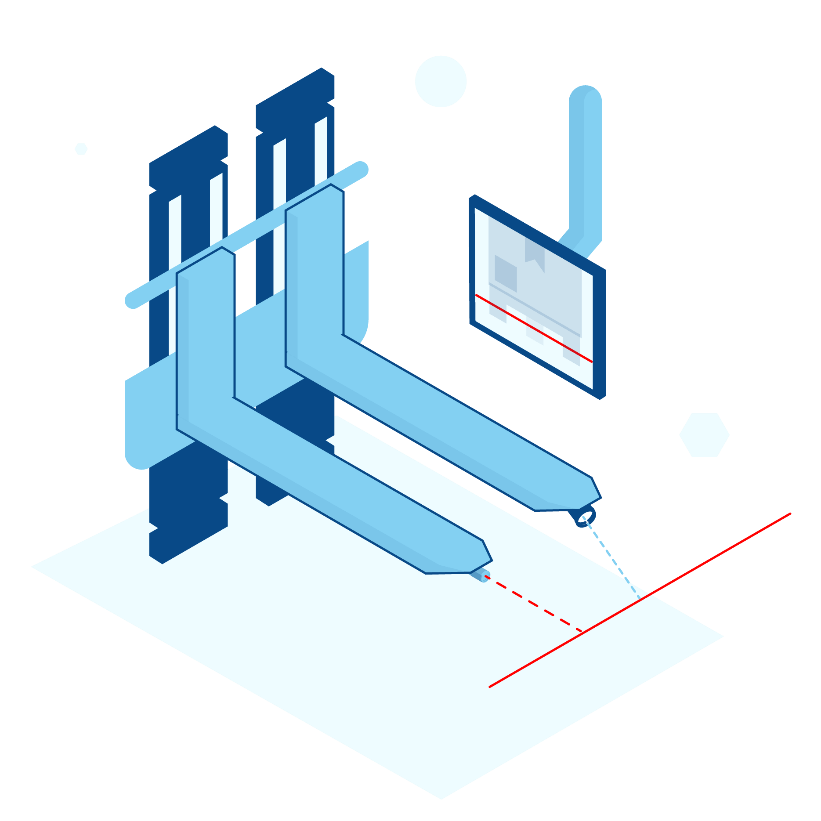 The solution is realised by installing a line laser into the fork which projects a horizontal line forwards. This in turn is filmed by a camera integrated into the other fork and displayed on the monitor in the driver's cab.
From our ZM18 series, we recommend at least 10 mW red or green line lasers, for example the Z10M18B-F-638-lg90 or Z10M18B3-F-520-lg90.
2. Visualisation using cross lasers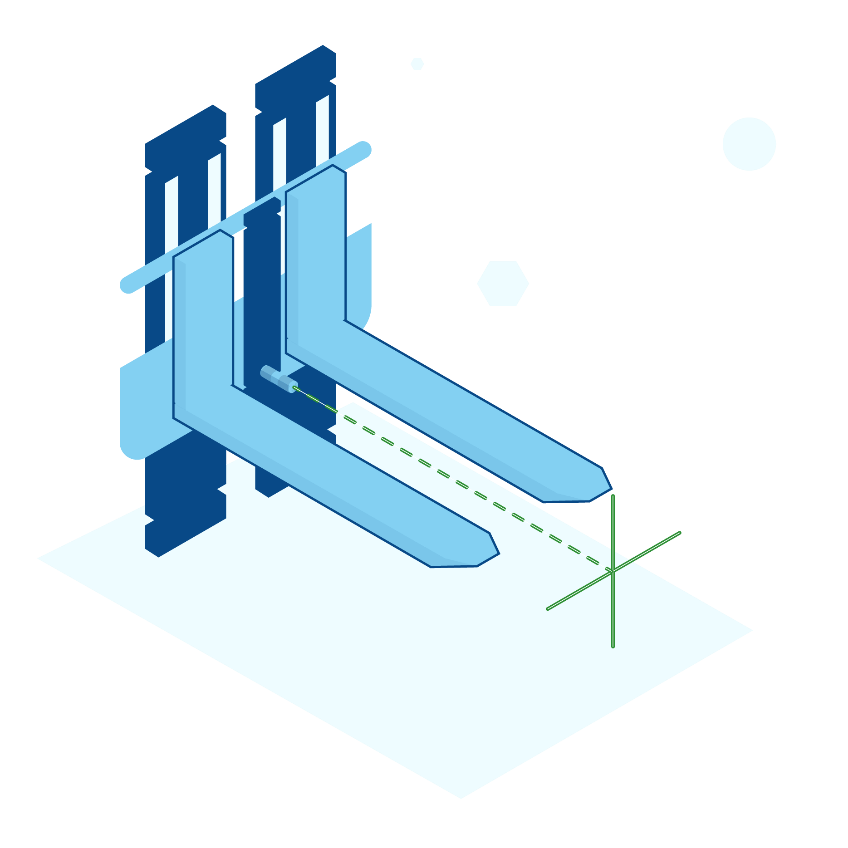 A different technical solution is offered by installing a green cross laser between the forks, for example. It can provide the driver with the optical assistance needed particularly when storing in very high tray warehouses.
Technical solution:
Mounting between the forks is performed with a green cross laser such as the Z10M18B-532-L90-x45 with 45° opening angle. The special "L90" version with angular optics, which bends the beam by 90°, enables flexible attachment – meaning that the laser can be fitted horizontally or vertically and does not take up much space.
Laser projections of lines, crosshairs or shapes created flexibly from construction data simplify and speed up the work steps required, increase manoeuvring quality and drastically lower the risk of accidents with industrial trucks.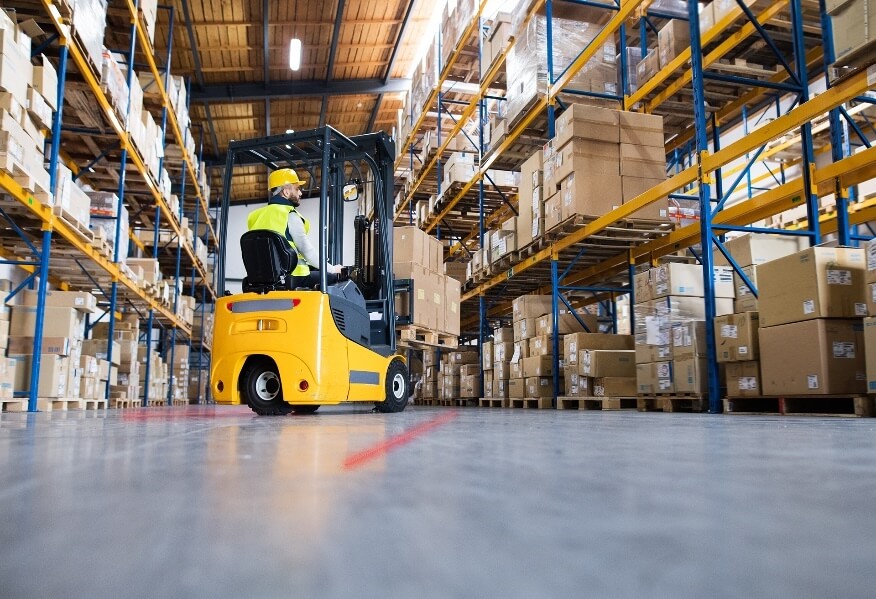 Increased safety thanks to positioning lasers
Personal protection plays a major role in every driving environment. According to the German Social Accident Insurance Institution for Trade and Logistics (BGHW), safety is a highly relevant topic when handling industrial trucks. Fatal accidents in the workplace are on a consistent downward trend, except if they are caused by forklift trucks. The figures in this case are alarming and have been stagnant for years. Collisions make up 65% of industrial truck accidents. There is an urgent need to react appropriately and promptly here and to recognise obstacles in time (even when manoeuvring backwards).
How can this be achieved?
There are two common methods of emitting warnings.
The forklift truck issues the warning to the driver, similarly to how a car beeps when driving in reverse.
The forklift truck emits an external warning, which can be done using markings, flashing lights and signals. Red or green line lasers make the driving path visible in front of and behind the forklift truck. When visualising the danger externally using lighting, it is always important to create strong light contrasts with the ambient light. The use of strong red and green lasers from the ZM18 series offers clear advantages over conventional dot lasers.
This guarantees collision-free movement of the forklift truck between automated guided vehicle systems, objects and people.
Moving safely with Z-Laser.
ZM18 family
The positioning lasers of the ZM18 family are predestined for many different uses and mounting options, even at low installation heights. The tried and tested product series is really simple to mount as well as being dust- and waterproof. With a Ø 20 mm laser head and M18 thread, they can be fitted easily and offer a simple focusing mechanism and outputs of up to 160 mW. The well-engineered products stand for reliable line straightness with precise, homogeneous line shaping.