With the increasing level of automation and acceleration of manufacturing processes and the simultaneous demand for higher standards of quality, optical 3D measuring systems are increasingly coming into focus.
As soon as the geometry of an object is relevant for a measurement, laser triangulation has become one of the optical standard measurement principles and offers great advantages over other inspection methods.
Since an end user usually prefers not to deal with the development of a respective setup, many companies nowadays offer complete setups in the form of turnkey solutions. These triangulation sensors already contain all the hardware required for recording the 3D coordinates. Depending on the manufacturer, these sensors either provide the user with 3D data for further processing or with ready-to-use measurement results.
Typical requirements on the laser for integration into a displacement sensor:
small size (especially length)
consistent projection quality
high flexibility in the choice of optical configurations (thin lines or big DoF's)
simple mechanical and electrical integration
customer-specific designs
open communication interface (I²C)

simple adjustment of the output power

readout of operating parameters (running time, temperatures, ON/OFF cycles)

service before reaching the end of life "Predictive Maintenance"
Z-LASER can support manufactures of such systems with their demanding task by offering standard or customized products for a big variety of sensor setups. Based on our 35 years of market and application experience, we would like to offer you following solutions for your demanding laser sensors:
Model ZX10-M
Consistently high product quality through automated manufacturing processes
Optical output power up to 100 mW
Wavelengths 635 nm to 830 nm
Continuous wave (rise time <100µs; on request: TTL-modulation up to 200kHz)
IP50 (optionally IP67)
Stainless steel housing
Smallest size for highest flexibility for integration
(Ø10h7 x 21mm / 10g respectively Ø 0.39h7 x 0.83 in / 0.07 lbs)
Model ZXS-OEM
Consistently high product quality through automated manufacturing processes
Highest reproducibility of beam quality
Optical output power up to 200 mW
Wavelengths 405 nm to 830 nm
TTL-modulation up to 400kHz
Analogue intensity control
Interface I²C, RS-232 (5 V)
Stainless steel housing
On request: custom board layouts or additional features
Compact size / weight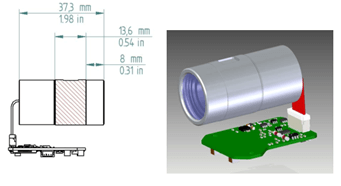 Model ZFSM-M
Single-Mode Fiber with FC/PC
Unmatched projection quality (line or dot with M²~1.05)
Very thin lines down to 6µm 1/e²
Optical output power up to 40 mW
Wavelengths 450 nm to 660nm (others on request)
Analogue and digital TTL modulation up to 200kHz
Interface I²C, RS-232 (5 V)
Alternative version: complete redundancy and single fault protection for safety critical applications (e.g. medical diagnostics)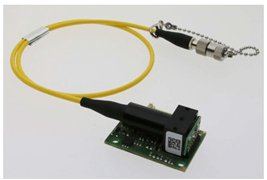 If you need further informations, don´t hesitate to contact Stephan Broche.