We are here for you!
The current situation challenges us all, both privately and professionally. At Z-LASER we have invested in a corresponding infrastructure in the last months and can access all important business processes also from outside the company. Our sales team is now mainly located in the home office. In the production we have separated the workstations and reduced the passenger traffic considerably. Wherever possible, we work in a rotating system to avoid the members of a team being absent at the same time due to illness.
The health of our employees, customers, suppliers and business partners is our top priority.
Even now we are available for you as usual. Our team still offers you the typical Z-LASER personal, competent advice and support.
SalesOur complete sales team is at your disposal for advice and support. Call your contact person directly as usual or dial our head office (+49 761 29644 44). We will be pleased to help you further
delivery & dispatch We are currently working hard to maintain a smooth production and dispatch chain. At present we do not see any major delivery problems and you can be sure that the products you have purchased are available at the desired time, can be delivered and put into operation on time.
Support If you have questions about or problems with your devices, our support team is available to you as usual.
Equipment and parts All products will continue to be repaired and delivered as usual.
Installations Service technicians are available for home visits as far as local regulations permit. In addition, we are available for system installations with remote and online support.
Remote Software AccessWe have our multilingual service teams who are happy to troubleshoot problems by telephone, teleconference or live video if required.
Product presentation To give you an idea of our products, we offer online product presentations for all our products. Please contact our sales department for this.
Newsletter Subscribe to our newsletter and stay up to date
Of course we are available for consultation by telephone.
Stay healthy!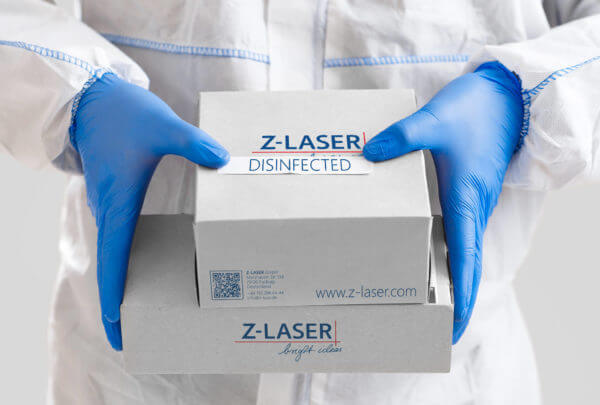 Z-LASER sends virus-free!
You can unpack all products purchased from us without any worries: from now on our products are treated with UV light before shipping.
Also at this point we do our best to fight against the spread of COVID19.
Visitors Rules
According to the principles of the Z-LASER employee charter we are obliged to protect the health and safety of our employees.
The recommendations of the Robert-Koch-Institute and the Z-LASER crisis management team are taken into account.