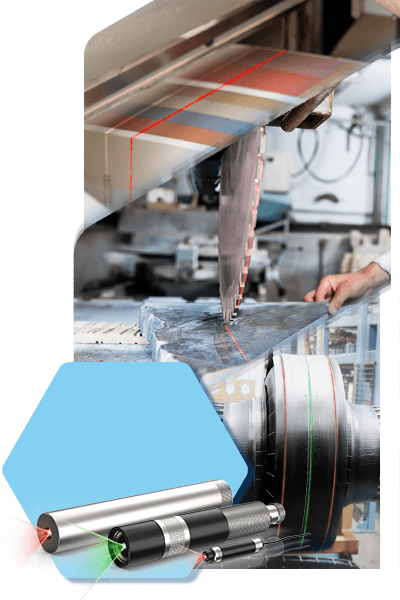 Shows the way
Positioning lasers are always used where precision in alignment and positioning is required. They indicate certain positions safely and reliably on a wide variety of materials. As line lasers, they are often used on band saws, cross-cut saws, press brakes and various cutting machines.
Therefore they are often found in the wood, metal or textile industry. As cross lasers, these laser modules reliably mark points for drilling or other processing steps. With the help of circular lasers, the correct positioning of round objects is made much easier.
Circular projection replaces stencils with different diameters. Circular lasers have proven to be the perfect solution for the construction of large cable drums or wooden barrel bottoms, for example: The projected circle shows the outer contour of the round workpiece; the individual wooden strips can thus be folded together easily and accurately.
Positioning lasers thus save material and time and help to achieve the optimum work result!
Interesting and application examples for positioning lasers
Line lasers, point lasers, cross lasers, circular lasers or DOE lasers from Z-LASER are used in various industries and applications. Positioning lasers are not only found in the wood and metal industry, but also in medical technology and textile industry. There are also exciting applications for positioning lasers in these areas.
Your contact persons for positioning lasers
More efficiency and lower costs thanks to positioning lasers
When positioning and aligning workpieces and components of all kinds, positioning lasers are ideal for increasing efficiency. At the same time, rejects are reduced and thus the associated costs are also lowered. For this purpose, Z-LASER offers line lasers, cross lasers, point lasers or even circular lasers in different colors (mostly red and green) and different designs. There are positioning lasers with permanent power supply for fixed installations. Often the use of positioning lasers with an autonomous power supply is useful, for example on mobile machines like saws and drills, or whenever an external power source is difficult to access. Z-LASER positioning lasers offer highest quality and reliability in industrial applications and environments – Made in Germany.